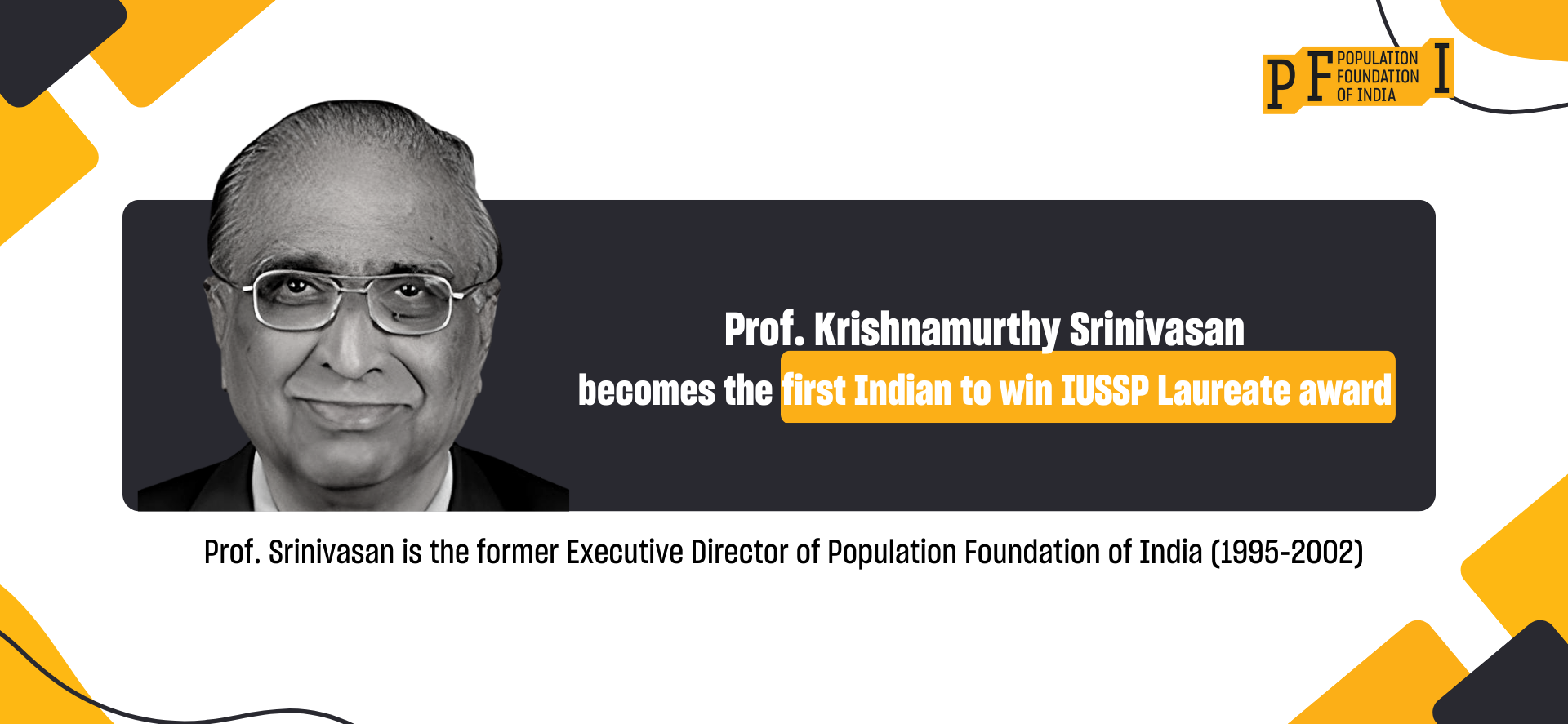 It fills us with utmost pleasure and pride to announce that Professor Krishnamurthy Srinivasan, former Executive Director of Population Foundation of India, has been selected as the International Union for the Scientific Study of Population (IUSSP) Laureate for the year 2023. A leading academician in the field of demography studies, Prof. Srinivasan is the first Indian to have received this award. The IUSSP Laureate award is conferred every year on those individuals who have made notable strides in the advancement of demography and population sciences. It is awarded by the IUSSP – a global network of scientists and researchers working to promote the scientific study of the population. 
In a career spanning over six decades, Prof. Srinivasan has been a part of multiple national and international organisations and projects. Most notably, he played a significant role in initiating the National Family Health Survey (NFHS-1) in the early 1990s. He also served in the Working Group on Population Policy set by the Planning Commission during 1978-79 for drafting the population policy for the 6th Five Year Plan (1980-85). He was also a member of the National Statistical Commission, constituted by the Government of India in 2000, which recommended revamping India's statistical system. Dr. Srinivasan served as the Senior Professor and Director of the renowned International Institute for Population Science (IIPS), Mumbai, from 1978 to 1992. In 1995, he joined Population Foundation of India as its Executive Director and continued to serve until 2002. During his tenure, he pivoted the organisation's focus towards reproductive and child health programmes, and played an instrumental role in augmenting the role of the government, NGOs and corporate sector in family planning programmes.  
After his journey at Population Foundation, he served as Professor Emeritus at IIPS, Mumbai. In 2013, he was awarded the National Fellow by the Indian Council for Social Science Research (ICSSR), where he was responsible for reviewing the history of India's family planning programmes. He also served multiple organisations and departments of the United Nations in various capacities, including reviewing China's Population Research Centers during 1981-83. Over the years, Prof. Srinivasan has authored multiple research articles and books, with the most recent – Population Concerns in India: Shifting trends, policies and programs – garnering considerable critical acclaim.  
We, at Population Foundation of India, extend our heartiest congratulations to the professor for the well-deserved award.