The rapid spread of COVID-19 as well as the lack of understanding and medical preparedness to deal with it, have led to anxiety and fear. The spread of fake news and misinformation on social media platforms has further led to stigmatisation and social isolation of people and communities affected by the virus. During such a time, there is a need to spread awareness and continually engage in effective behavioural change strategies to ensure that norms of physical distancing and hygiene routines to check the spread of COVID-19 are followed. Population Foundation of India's collaboration with the Government of India and Facebook is a national- level campaign to counter the spread of misinformation related to COVID-19.
In response to the second wave of the COVID-19 pandemic, Population Foundation of India developed and launched Phase – II of the Behaviour Change Communication Campaign to inform, build awareness and address myths on key issues such as COVID Appropriate Behaviours (CAB), vaccine aversion and confidence, isolation and quarantine and stigma. The campaign collaterals are being disseminated across online and offline platforms in partnership with Population Foundation of India's state offices and on-ground partners.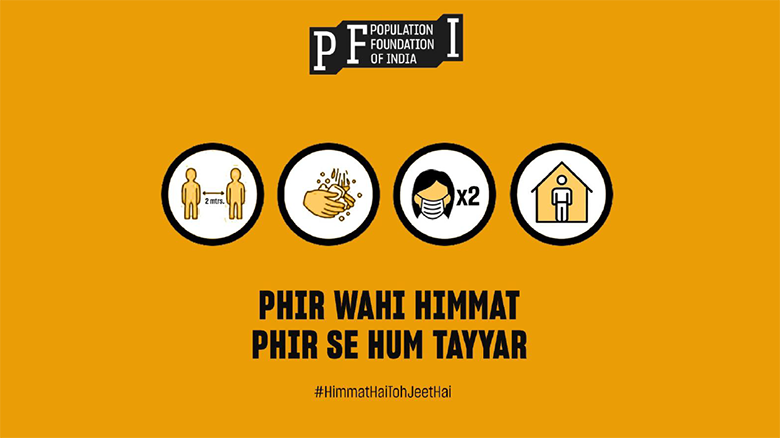 Information Hub on MyGov Platforms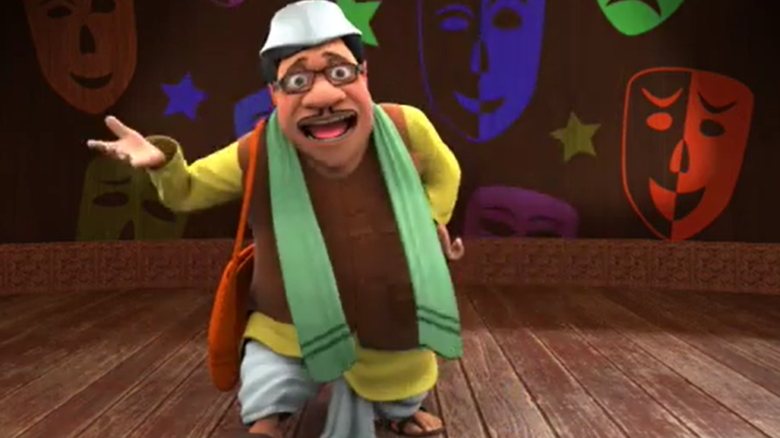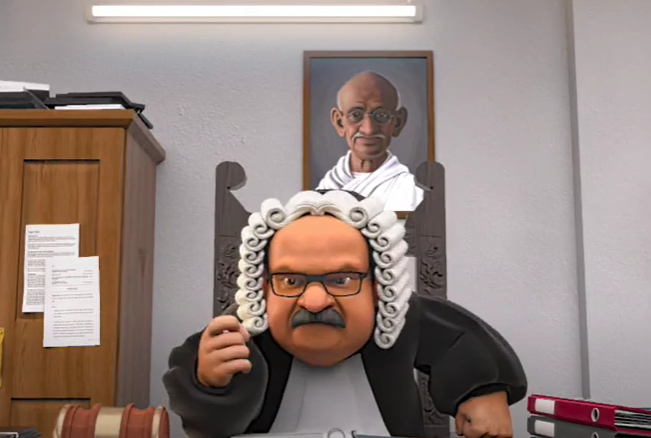 Population Foundation of India, is the content partner for various Government of India platforms to create content, messaging and creatives around COVID-19 tailored for social media and digital platforms. Besides static creatives and infographics, here are some of the videos that were created.
We conceptualized and created a short film on female healthcare workers at the forefront of COVID-19. The video was also published on Government of India's MyGov page and has become one of their top performing posts with over 4.6 million views in 24 hours.
Watch the video in Hindi  | Watch the video in English
In accordance with the current mandate of the Stigma & Discrimination Campaign under Ministry of Health and Family Welfare (MoHFW), Population Foundation of India, in collaboration with renowned theatre and film director Feroz Abbas Khan, developed short animation films (90 seconds or less) using humour and an entertainment education format to address the issue of stigma against healthcare workers and COVID-19 patients in a sensitive and appropriate manner. Hasya Kavi Potliwala is a short animation film featuring a poet who recites a short "kavita" addressing stigma against COVID-19 patients.
Watch Hasya Kavi Potliwala here
Population Foundation of India has also conceived the Corona Ki Adalat animation series, that uses the familiar setting of a courtroom drama to disseminate key messages, tackle misinformation and reinforce a sense of solidarity around the fight against COVID-19.
Partnering with State Governments
To ensure that materials being developed are as widely shared as possible the organisation is also working directly with state governments, MoHFW and civil society organisations to share materials in Hindi, English and regional languages for their use.
Our teams are coordinating closely with the Mission Directors, State Nodal Officers- Community Processes and IEC of 37 States & Union Territories to support further disseminating our materials across around 150 districts.
Population Foundation of India is collecting feedback and inputs from state and district nodal officers to track the COVID-19 response of health departments, initiatives being taken by ASHAs and Village Health Sanitation and Nutrition Committees (VHSNCs) and Mahila Arogya Samities (MASs). PFI is also tracking the health department's responses to critical issues and challenges faced by communities as well as services providers.
On the request from the MoHFW, a set of guidance notes on COVID-19 response and mitigation have been developed for Village Health Sanitation and Nutrition Committees (VHSNCs), Mahila Arogya Samities (MASs), Rogi Kalyan Samities (RKSs) and Resident Welfare Associations (RWAs). The state and districts nodal officers will be oriented to use these resource materials at the field level.
On request from the Uttarakhand National Health Mission (NHM) team, guidelines and IEC materials have been developed for taxi drivers, restaurant/ hotels and security staff on norms and precautions on COVID-19.
Population Foundation of India is supporting state governments to make modifications to their Programme Implementation Plans (PIPs) to prioritize resources for COVID-19, especially for community action.
The organisation is supporting the State Health Society Bihar (SHSB), Government of Bihar in undertaking regular data analytics as well as developing communication materials on COVID-19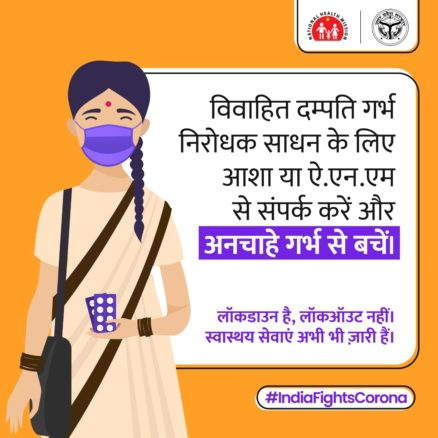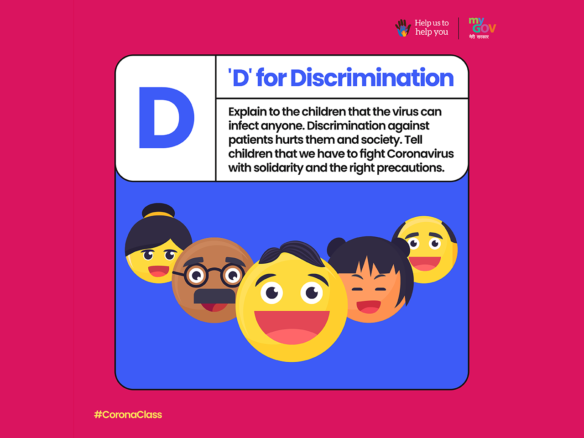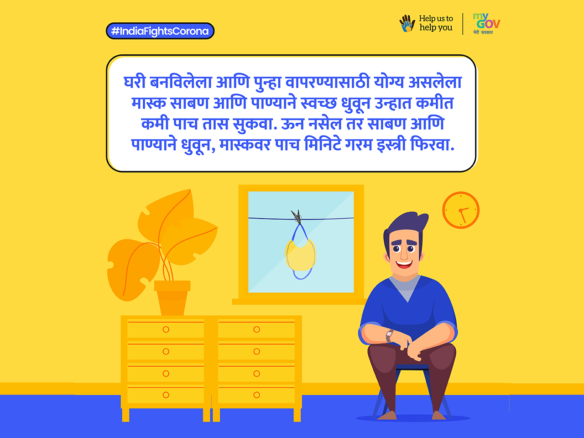 All materials being developed are disseminated widely through NGOs to ensure maximum reach.
We shared the communication materials with civil society organizations as well as network and coalitions including ARC (Advocating Reproductive Choices) which has 167 members.
There are small grants being made in Bihar, Uttar Pradesh, West Bengal, Delhi and Jharkhand to organizations active in addressing poor and marginalized communities' immediate needs (cooked food, ration, masks and sanitary supplies) in the field and quarantine centres during the COVID-19 crisis.
We are convening and coordinating with civil society organisations (CSOs), including social marketing organisations (SMOs) working on reproductive health and family planning to identify a consolidated approach to ensure that information and services continue to reach clients.
Along with its NGO partners we have strategically engaged with Ministry of Health and Family Welfare, Government of India leading to the inclusion of family planning in the Ministry of Health and Family Welfare, Government of India (MoHFW) guidelines as essential health services.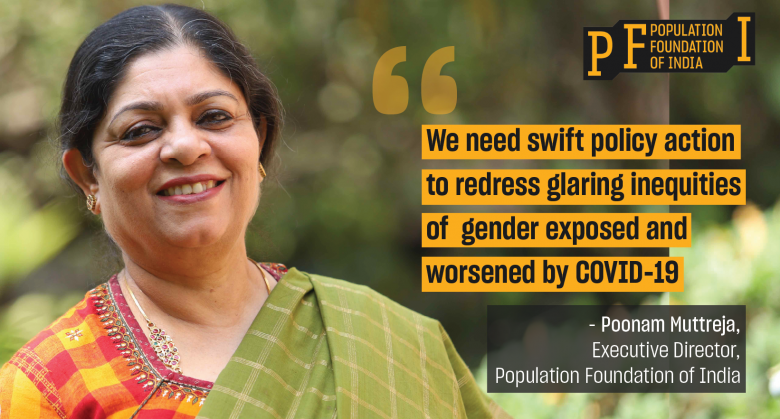 Generating Evidence on Impact of Covid 19
Population Foundation of India has made efforts to generate evidence on the impact of Covid 19. The organisation commissioned a study in five states (UP, Bihar, Jharkhand, Rajasthan, and Odisha) to assess the impact of Covid 19 on the availability of services and commodities in public health facilities and outreach and work of front line workers.
Population Foundation of India conducted a telephonic rapid assessment with adolescents and youths in three states (Rajasthan, UP, and Bihar) to understand the level of knowledge, attitude, and practices with regard to COVID-19 and how it is impacting them. Read the report and findings here.
A field survey was undertaken by the Advocating Reproductive Health Choices coalition (ARC), of which we are the secretariat, across 27 districts in Bihar to understand the status and challenges in re-initiating family planning services. A letter has been sent to the Executive Director- State Health Society Bihar (SHSB) on the status and recommendations to strengthen service delivery at the field level.
On the eve of World Population Day, the organisation released a policy paper —The Impact of COVID 19 on Women assessing the differential impact of COVID-19 and recommending timely measures to ensure women and girls remain central to COVID-19 response planning and recovery efforts.  Read the policy brief here.