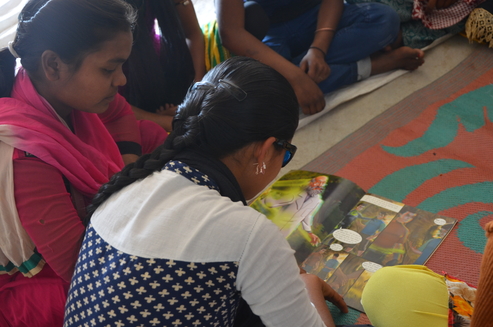 Under the Advocacy Communications and Accountability programme, an innovative communication package was developed to deliver health messages to adolescent girls in two districts of Nawada and Darbhanga in Bihar.
This Social and Behaviour Change Communication (SBCC) package includes the following materials:
three editions of 3D comic books
two sets of dart games
letterbox for feedback and suggestion
pocket booklet on adolescent issues and their solutions
promotional items- posters, stickers, certificates, danglers, name plate; and
a guidebook on how to use the SBCC materials.
In addition, Kishore Ka Shor (Voice of Youth) videos pulled out from the show Main Kuch Bhi Kar Sakti Hoon (MKBKSH) and digitized for dissemination through WhatsApp and social media platforms. The comic books developed were also converted into interactive stories, which are now being distributed on SD cards through a network of mobile recharge shops in the project districts wherein 3,192 youths accessed the resources.